Setting the standard for change
Change is the only constant in employment. It is one of the main concepts the AUT Employability and Careers services team urges students to embrace as they prepare for life after university.
Students are encouraged to develop a well-rounded set of transferable skills alongside the pursuit of academic excellence at AUT. The skills ensure students are flexible, adaptable and prepared for the number of opportunities presented to engage with employers on and off campus.
Adapting to change
A rebrand of AUT's career services to Employability and Careers in 2015 marked a shift to a stronger focus on students' employability in a rapidly changing workplace, whether as an employee, employer or entrepreneur.
With the change, industry involvement on campus has grown exponentially. The number of employers with a presence on campus increases each year as they take opportunities to get their brand and graduate programmes in front of students by giving presentations, providing leadership speakers, attending career fairs, sitting on panels or running practical workshops.
Applying skills from the AUT Edge Award
AUT has also developed two awards that encourage students to broaden their focus beyond their academic study: the AUT Edge Award and Beyond AUT. These awards, one for undergraduates and one for postgraduates, are a first in New Zealand and encourage students to develop their transferable skills and become critical thinkers and socially aware world citizens.
Bachelor of Computer and Information Sciences alumnus Jonathan Lopeti says the employability team and the AUT Edge Award helped him work out how to position his strengths.
"I really found my professional identity by learning what I had to offer potential employers. I became much more self-aware."

Jonathan Lopeti
BNZ analyst programmer
Bachelor of Computer and Information Sciences alumnus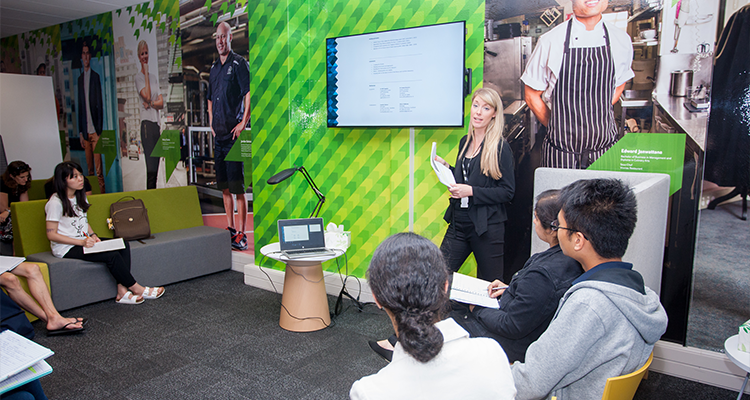 Another AUT Edge Award graduate, Mansi Limbard, now works as a Compliance and Quality Manager at Bakeworks Limited. She also credits the team and award for making a huge difference with her confidence throughout the job search.
"I approached Bakeworks directors through LinkedIn – a big achievement in itself for me - which then meant I felt more comfortable and capable in the interview," says Mansi.
She is currently working on two new product development trials and is undertaking her PhD in food microbiology. Mansi credits the AUT Edge Award for building the multitasking and time management skills required to achieve her goals.
Interacting with industry
Auckland Council is one of five organisations currently sponsoring prizes to support the AUT Edge Award.
Auckland Council Graduate Programmes Leader Lacey Knight says they look out for the Edge Award on AUT student and graduate CVs because it indicates strong employability skills.
"We sponsor the Edge Award social/community impact prize because it fosters transferrable skills. It isn't just the grades that are important but what you can personally bring to an organisation," says Lacey.
Chartered Accountants Australia & New Zealand (CAANZ) Careers Engagement Consultant Mia Arts says her company sponsors the leadership prize for the AUT Edge Award so they can engage, inspire and help develop the difference makers of tomorrow.