The future is wāhine
Qiane Matata-Sipu is the founder of NUKU, a multimedia series profiling 100 bold indigenous women and a founding member of SOUL
(Save Our Unique Landscape).
From amongst the crowd of visiting school children at Ihumātao in South Auckland emerges Qiane Matata-Sipu wearing her gumboots, a swanndri and a tired smile.
There have been many sleepless nights during the long public dispute at Ihumātao for Qiane and her whānau as they peacefully protect the sacred land in an occupation they have termed 'a reclamation'.
The Bachelor of Communication Studies alumna is a founding member of SOUL (Save Our Unique Landscape). SOUL and the Protect Ihumātao campaign were created in 2014 by a group of six cousins who are local mana whenua. They are asking for the land at Ihumātao to be protected and returned to mana whenua so it can be reserved as a cultural heritage site instead of a proposed housing development.
Although SOUL is a big part of her life, Qiane is quick to point out there is more to her than SOUL. She is a storyteller, mama, daughter, wife, business owner and activist. "I am one of these things and all of these things," says the founder of NUKU - a creative and social impact storytelling project profiling 100 indigenous wāhine.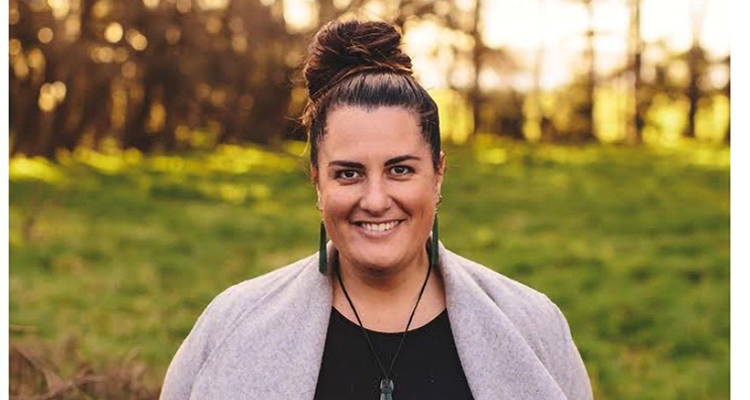 Profiling 100 indigenous wāhine
Qiane is passionate about indigenous people and indigenous stories. She comes from a strong line of Māori and Cook Island descendants and she says her kaupapa is amplifying the voices of marginalised people to change the narrative for future generations.
NUKU is a multimedia series profiling indigenous women through photography, podcast interviews and videography. She plans to collate the profiles into a book and exhibition at the end of the project.
"We can learn from each other, we can connect, we can know that we are not alone, we can get advice, inspiration, and motivation. There are so many possibilities when we open up and genuinely engage with wāhine."
The series has led Qiane and her 'wonder team' around Aotearoa to share stories from women around the country, including New Zealand's only Māori patent attorney Lynell Tuffery Huria, fellow AUT alumna, director and producer Chelsea Winstanley and AUT librarian Kim Tairi.
Finding her purpose
After honing her skills and gaining practical experience at AUT, Qiane worked for many years as a journalist, production manager and editor in the media industry.
Noticing there were not many Māori or Pacific stories in mainstream media, she started to think about how she could use her skills and experience to make an impact in the world. "I truly believe you need to leave this earth a better place by creating and contributing positively to people and society," says Qiane.
She resigned from her secure role to start Qiane Media + Photography, a successful business she has run for more than seven years. Sharing inspiring stories about amazing indigenous women for the next generation is a priority for the steadfast communication consultant.
The future is wāhine
Qiane admits she feels selfish at times because she gets the opportunity to share and spend time listening to such incredible stories. Throughout her NUKU series journey one big lesson she has learnt is the realisation that women are so different and unique but there are also similarities that transcend the differences.
Website: nukuwomen.co.nz