A voice for change
Guled Mire has overcome adversity to achieve tremendous success. The former refugee high school dropout turned Senior Policy Advisor is committed to helping shape a better world. The well-known advocate for ethnic communities shares his inspiring story with Insight.
Originally from Somalia, a two-year old Guled Mire fled to Kenya with his mother and eight siblings, where they spent time in a refugee camp. A six-year-old Guled and his family were fortunate to resettle in New Zealand in the late nineties. Escaping Somalia's civil war was lifesaving but the relocation to Hamilton presented new battles for the youngster in the form of racism and encountering negative stereotypes.
Chased by skinheads and told by school teachers that university was not a place for people like him, Guled began to internalise these negative messages and wider societal stereotypes of people from refugee and ethnically diverse backgrounds.
His thinking changed when he travelled to Africa for the first time after leaving as a child. The trip sparked a life changing moment for Guled and instilled a new sense of inspiration in him. He returned to New Zealand and decided to attend university. In the back of his mind, he wanted to prove the naysayers wrong, but more pressing was the desire to honour his mother for sacrificing everything she had and everything she knew to get her children safely to New Zealand for a better life.
From high school dropout to world-class scholar
Education opened doors and opportunities for Guled. He continued into postgraduate study after completing a Bachelor of Arts, majoring in international studies and policy. Guled soon developed a keen interest for research and became involved in a highly publicised research study with AUT Associate Professor Camille Nakhid on African youth experiences with the New Zealand Police and justice system.
His strong commitment to excelling at higher education has always been motivated by his desire to be a role model for young people in his community and the need to make a positive contribution to
New Zealand society. After nearly five years as a Public Policy Advisor in the Public Service, the desire to fulfil further study arose. In 2020 Guled is relocating to the USA to complete a Master of Public Administration. He hopes to be accepted into an Ivy League School and inspire the next generation of Kiwis of refugee background.
"Representation matters because it gives hope to people who relate to me. They may see me in different places and start to think it's possible to take a similar path. It also makes other people, like my old school teachers, think about their attitudes and beliefs before stereotyping certain groups of people," says Guled.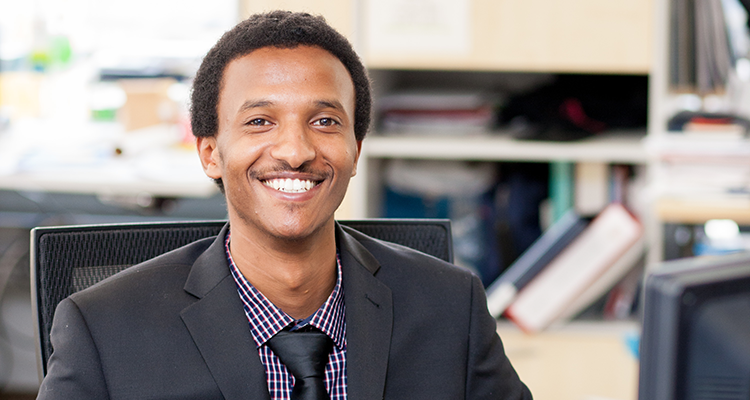 "We can all help make the world a better place, so we need to ask ourselves what is going to be my contribution, how am I going to make an impact?"
A rewarding career in public policy
Guled has continued to apply his academic skills and intellectual rigour to his policy career across the New Zealand public service. He has a wealth of experience working in central government policy teams based in both Wellington and Auckland, and has worked on a number of important issues affecting New Zealand.
Guled enjoys working in policy as it gives him the opportunity to utilise his strengths as a natural problem solver to make a difference. His professional contribution to diversity and inclusion policy, his work on pay equity and his current role providing policy advice to improve state services, all demonstrate why he finds a career in public policy to be rewarding.
Shaping a more humane, inclusive and welcoming Aotearoa
Since graduating, Guled has continued to grow his leadership skills and has used his platform and profile to start challenging discussions about mental health and racism in New Zealand. In 2017, he co-founded Third Culture Minds, a non-profit organisation dedicated to addressing the systemic and sociocultural factors that exacerbate the mental health outcomes of young people of migrant and refugee backgrounds. In recent times, Guled has become a publicly and widely recognised familiar voice and face in the media representing his community through the difficult period that followed the Christchurch Mosque attacks.
In addition to his demanding professional role as a Senior Policy Advisor, Guled holds several voluntary community and governance roles. His community work led him to represent New Zealand at the United Nations Annual Consultations with NGOs in Switzerland, where he facilitated the opening plenary conversation with the UN High Commissioner for Refugees. He was also named a finalist for the 2019 Wellingtonian of the Year awards in recognition of his services to the community.
Website: thirdcultureminds.com