Designing a more connected future
AUT is collaborating with industry to put indigenous values at the heart of its new architecture programme.
2020, an auspicious year marking AUT's 20 year anniversary, is also the year AUT welcomes its first students into a new Architecture and Future Environments programme.
The programme itself is an exemplar of the change, growth and success AUT has experienced over the last 20 years, developing teaching and learning practices that continue to push boundaries through the creation of innovative new programmes. When compared to traditional architectural programmes, a major difference is the ethos of AUT's – its foundation is built on indigenous values.
Through a collaboration with Māori design collective, Ngā Aho, AUT has developed a programme that truly reflects indigenous values and knowledge. Ngā Aho is a national network of Māori design professionals in the areas of architecture, commercial design, engineering, landscape architecture, business, planning, project and resource management. The kaupapa of the collective is to support and develop each other to better serve the design aspirations of Māori communities and, in turn, Aotearoa.
An opportunity to positively impact communities and cities
This programme along with students, staff and industry will have the opportunity to contribute to society in an inclusive and positive way.
"It will transform the future of Auckland. Imagine a lively landscape and architecture with high levels of biodiversity, vibrancy, and mauri (life force), throbbing in and across the city," says Architect Fleur Palmer, who is co-writer of the programme.
"We are at a point where we can see fundamental changes in how we live. Climate change, new technologies, social and cultural transformations are occurring at pace, and we need to consider holistically what kind of society, what kind of communities, we want to build."

Charles Walker
Head of AUT's Architecture and Future Environments programme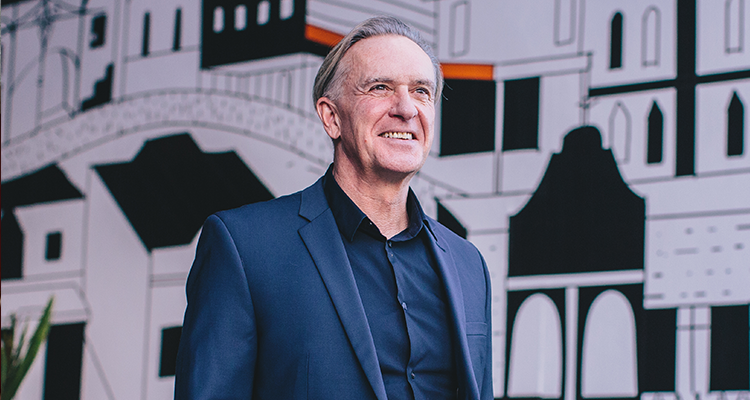 Fleur has a dual role as a member of Ngā Aho and is a strong advocate for recognising indigenous values in the development of cities and communities. Her whakapapa links to Te Rarawa, Te Aupōuri and Ngati Pākeha (Scottish).
Incorporating indigenous knowledge with industry
The need to transcend boundaries and disciplines to solve complex environmental, social and cultural issues is crucial.
In this programme, students can come in and out of long-term connected research projects, and work with industry and experts in different fields to make a real contribution to developing knowledge about how Auckland city can evolve.
"Auckland is a wonderful city, but it has many challenges," says Charles Walker, AUT Professor and Head of AUT's Architecture and Future Environments programme. "Housing affordability, transport, migration, cultural diversity and inequality – are all global problems. This allows students, wherever they are from, to experience local, realworld issues, and work hands-on with industry and community partners, while also being able to understand the global context. Our graduates will be ready to apply their knowledge at home and around the world."
For more information on this programme visit
aut.ac.nz/study/study-options/architecture
For Ngā Aho visit: ngaaho.maori.nz