From conservation to coding at Shopify in Canada
Racheal Herlihy, a Bachelor of Computer and Information Sciences alumna, is using her skills and qualification at e-commerce software giant Shopify.
AUT is well regarded for balancing theory with practical skills and for its strong industry connections says Data Scientist Racheal Herlihy. The Bachelor of Computer and Information Sciences alumna says these are the reasons why she chose to study at AUT.
Specialising in computational intelligence was fitting for the young entrepreneur as she believes programming gives people the power to turn their ideas into reality.
"Many people believe technology is changing the world. But computers don't have that power. People do."
After graduating from AUT in 2017, it wasn't long before Racheal was applying her skills in Canada at international e-commerce giant Shopify.
Racheal welcomes the challenges and opportunities of being a part of a company that powers over 800,000 businesses worldwide.
"I love that Shopify enables entrepreneurs around the world to pursue their passion. It has removed so many obstacles and made it much simpler for anyone wanting to start their own business. Getting to talk with our merchants, hearing about their journeys and how Shopify has made it all possible for them makes the work I get to do here extremely rewarding."
Bringing innovation to conservation
Before moving to Ottawa, Racheal co-founded local start-up Squawk Squad, using her programming skills to make a difference to conservation.
"Every year, 25 million native birds are killed by rats, possums, stoats and other pests. Squawk Squad allows anyone to collectively fund sensor-connected traps that are provided to bird sanctuary projects around New Zealand via their web app."
"There's a huge opportunity to make a real difference in the world with the right people influencing new technologies. I love that, by being able to code, I can create products that can help people and make a difference."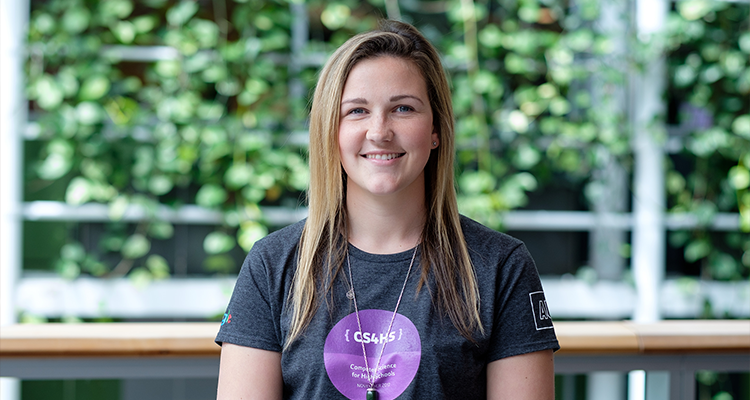 Squawk Squad came into fruition at the Auckland Startup Weekend in 2016, where it was named the winning social enterprise. It has since teamed up with the Department of Conservation and other conservation organisations to provide a free education package, which has been distributed to schools across New Zealand.
Creating career-ready graduates
Exposure to industry experts through lectures during her study proved invaluable to Racheal.
She says working alongside clients in the final year research and development project gives AUT students the chance to apply all the learning from the classroom to real-life problems.
"The lecturers really made my university experience – their passion and obvious knowledge was inspiring. I've learnt so much from them, and they're always supportive and keen to help anyone wanting to go above and beyond their studies."
Valuable international partnerships
Being able to look behind the scenes at technology giant Huawei was another highlight of Racheal's studies.
"AUT has a strong partnership with Huawei, which offers scholarships to science, technology, engineering and maths students. I was accepted for the Huawei Seeds for the Future programme where students from around the world travel to Huawei's headquarters in Shenzhen, China."
This experience was an incredible opportunity to extend her learning.
"The first week had us exploring Beijing, learning Mandarin, getting an introduction to the culture, and visiting historical sites like the Great Wall and Forbidden Palace. In the second week, we were at Huawei's headquarters, learning about networking and future technologies like 5G and the internet of things."
Website: squawksquad.co.nz