Connecting bright ideas and industry through CO.STARTERS
AUT's CO.STARTERS programme is a one-stop-shop equipping aspiring entrepreneurs with the insights, tools and relationships they need to take the first step with a business idea.
Accelerator and incubator programmes are in the business of helping entrepreneurs scale their offerings or disrupt industries. CO.STARTERS is a one-stop-shop where aspiring entrepreneurs are doing both.
Bachelor of Business alumnus Bradley Hagan and Holly Sutich are two of the aspiring entrepreneurs who completed the CO.STARTERS programme to help them turn their entrepreneurial idea into a commercial product.
When the duo first joined CO.STARTERS, their idea of wanting to create a healthy energy drink was considered risky. While many congratulated them for their passion and enthusiasm, dominance of global brands like Red Bull and V in the energy drink market meant their idea was met with scepticism.
Against all odds, they developed their idea which started in the halls of AUT student apartments during a stressful exam period - into Phoric, a clean energy drink alternative containing ancient super leaf guayusa as well as natural ingredients.
Phoric provides consumers with antioxidants and an energy boost without the artificial sugars or guilt.
Bursting on to the scene earlier this year with cheeky billboards in prime locations helped raise awareness. The clever campaign worked, with Phoric now stocked in selected stores around New Zealand.
The next move – negotiating with major supermarket chains in New Zealand and Australia to stock Phoric - is already underway.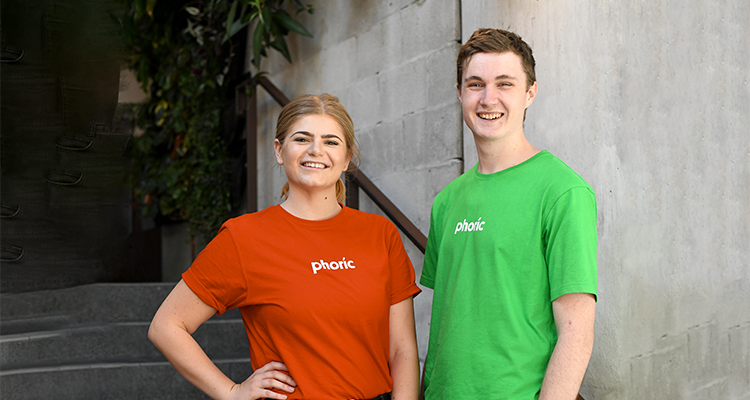 Making an impact
Making a positive contribution to people and society is important to the Phoric co-founders who say they are living and practising their values daily.
Combining their business idea with causes close to their hearts is top priority for the young mental health advocates, so five cents from each bottle sold is donated to mental health initiatives. They plan to increase this by five cents each year until 20 cents per unit is donated.
"We're constantly problem solving, it's not like a normal job where you're only focusing on marketing or accounting; we make decisions across the board," says Holly. "So I'm trying to improve my worklife balance. It's not one of my strengths but we both know how crucial it is to our wellbeing – if we're not well, the business is not well."
Collaborating with industry
AUT's CO.STARTERS programme provides tools to create a sustainable business, to identify whether an idea is valid, and, if required, the tools to change it to make it work.
Holly enjoyed the collaborative environment, constructive feedback, and industry connections the nine-week programme presented. The community of peers, mentors, business services and international network of support is a drawcard for participants and industry partners.
"We've helped Holly and Brad with their corporate structure and put a shareholders' agreement in place, connected them with industry experts, helped them out with some basic contracts and terms, and been a sounding board for the odd thing along the way, not to mention being very happy consumers of their fantastic product too."

Andrew Wallace, Lowndes Jordan, Partner
Specialist corporate law firm Lowndes Jordan is part of the extended CO.STARTERS community. Partner Andrew Wallace says his company deals with both established businesses and start-ups and is a regular attendee throughout each programme.
"It was only natural to get involved when CO.STARTERS were looking for an expert for the legal and capital raising session of the programme.
"CO.STARTERS does a tremendous job of building a sense of community among its participants, and it's inspiring to see people coming together and really supporting one another," says Andrew.
Phoric and Lowndes Jordan working together
Andrew says partnering with the CO.STARTERS programme enables him to hear about the wide variety of ideas people are working on, and to help budding entrepreneurs.
On top of giving time to the programme, Lowndes Jordan gifts a legal services package to the group who engage the most people about their idea.
One of the most useful services Lowndes Jordan offers participants like Holly and Brad is the opportunity to map out and discuss what they're wanting to do, and explaining the legal landscape.
Whatever the next steps for Phoric, Holly, Brad and Andrew are grateful to CO.STARTERS for nurturing entrepreneurship by connecting ideas with industry.
Website: phoric.co.nz