Helping companies make sense of data
Mike Jenkins, founder of award-winning cloud tech company The Instillery enables Kiwi businesses to reach new heights through the power of data.
The impact cloud services can have on Kiwi organisations, communities and even cities is what Mike Jenkins, Founder of The Instillery, is committed to amplifying through his team's work.
"Moving to the cloud and enabling people and organisations to intelligently use data to help look at issues or areas needing improvement is powerful. We have ambitious goals to leverage the power of data and the cloud to make a real positive impact in Aotearoa," says Mike.
A significant project the team is leading is working with both local and central government to deliver automated platforms that connect capital investments to social impact. By doing so there is the unprecedented potential to help decision makers with understanding the real impact of social funding.
Imagine if there was a centralised repository for any and all central government departments or even those in the private sector servicing specific agencies and communities, where access to data and insights could be securely given to authorised people to drive better decision making and outcomes, says Mike.
These are the types of projects The Instillery would like to contribute to on a regular basis. For The Instillery team, it's more than just helping Kiwi businesses accelerate their own cloud journeys.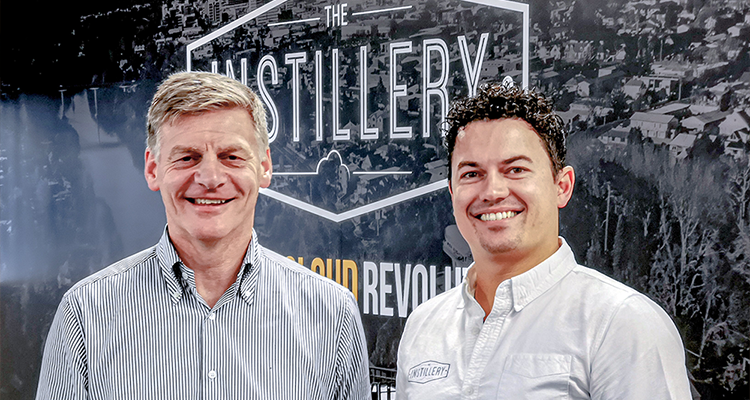 The Instillery and Origin merging to make new Kiwi technology powerhouse
The Bachelor of Business alumnus will head the new merger with Origin as Founder & CEO, combining over 200 staff across eight offices in New Zealand and generating revenues in excess of $40M.
The team know when technology is central to business strategy, better performance follows. "People talk about big data, AI and machine learning. We have the expertise to get data into the cloud. From there people can leverage all the cool features on offer. Businesses will be able to process, visualise and analyse data to produce amazing insights - something people couldn't afford to do previously with traditional legacy firms and infrastructure," says Mike.
Doing things differently
As far as players in the high-tech market go, The Instillery have always done things a little differently and are committed to keeping it that way.
There is a myriad of technology solutions already available but the real magic is The Instillery culture and how they do things.
"We want to create something new, so we must do things differently and that's what our customers love about us," says Mike.
Applying that attitude and bringing a fresh lens to clients' problems is what sets The Instillery apart from their competitors.
"Love what you do and do what you love. Doing something new and different requires a level of drive and passion that is impossible to fake, and I genuinely believe that when your heart is behind what you are doing, so much more is possible."
The average age at The Instillery is 28 years old, and Mike's team is genuinely committed to encouraging more diversity of thought and particularly encouraging women into the company and wider tech sector.
He sees his recent appointment to the Board of New Zealand Tech as a good place to continue ruffling some feathers with diversity top of mind.
"We do lots of cool things around inclusiveness and diversity at New Zealand Tech and that's why I'm passionate about changing the landscape with an emphasis on both women in tech and Māori and Pasifika in tech."
Mike practices what he preaches. The Instillery is a registered NZ Māori business and in addition to his 'CEO day job', he sits on several boards, provides advice in other capacities, and invests in Kiwi tech start-ups.
Website: TheInstillery.com