Shaping the future of sport
Dr. Matthew Kritz has taken his 20 years of experience back home to help the next generation of athletes in his new role as Senior Associate Athletic Director for Athletic Performance at the University of California San Diego.
Dr. Matthew Kritz knows what a successful high performing environment and athlete looks like.
That's not surprising given the sport and recreation alumnus has more than 20 years of experience in elite sport helping to physically and mentally prepare Olympic athletes from 21 different sporting codes.
"I love sport, and what sport represents to cultures and societies worldwide, and I'm interested in how being more athletic leads to mental, emotional and physical confidence.
"I am fortunate I stumbled on a profession I love. Through diverse experiences, I have achieved confidence in my sports science acumen. It is very gratifying that I have had a meaningful impact on the organisations and athletes I've supported. I'm passionate about working in high performing cultures that develop and support a collaborative and integrated sports performance support services model," says Matthew.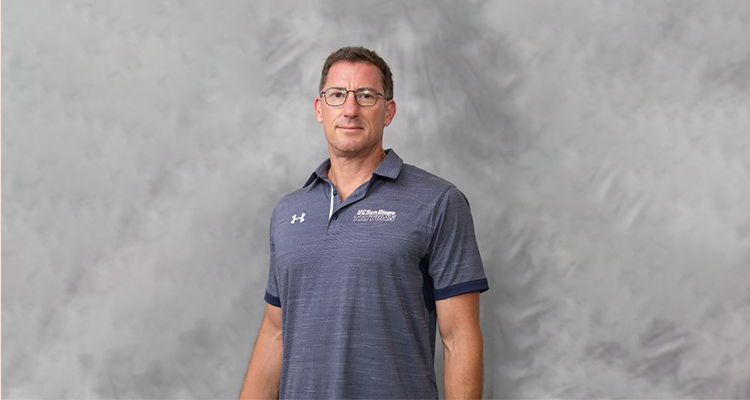 Making a difference
As the Senior Associate Athletic Director for Athletic Performance at the University of California San Diego, Matthew has plenty of opportunities to pursue his passion for sport. As part of his role, he has effectively integrated the university's strength and conditioning, sports medicine, sports nutrition, sports analysis and sports psychology services, creating a new model for wellness and performance for university athletes in the US.
Before returning to the US from New Zealand in 2018, he was the National Director of Strength and Conditioning for High Performance Sport New Zealand where he was instrumental in growing the country's strength and conditioning discipline for about 500 Olympic and international-level New Zealand athletes competing in a variety of sports.
"I loved being involved in creating and developing High Performance Sport New Zealand. It is incredibly satisfying knowing the impact it has had in enabling more New Zealanders to win on the world stage, and the impact the national infrastructure we built will have on the future of New Zealand sport."
In addition to his role at the University of California San Diego, Matthew also continues to serve as the Managing Director of Athlete Nation LLC, which endeavours to make movement meaningful by creating smart systems for developing mind, body and the body's energy needs specific to an individual's life demands.
"I'm proud of the opportunities I've had working in high performance environments in three countries through four Olympic cycles, supporting more than 20 Olympic and World Championship medal campaigns."
A chance to conduct meaningful research
Completing a doctorate at AUT enabled him to pursue a research topic that was of real interest to him, says Matthew, who completed his PhD in 2012.
He also appreciated the flexibility his PhD offered as he was balancing his studies, helping to raise his three children and helping create what is now High Performance Sport New Zealand.
"I was interested in better understanding human movement as it related to performance and the mechanisms of injury. My PhD gave me the opportunity to do novel work that could have a meaningful impact on how individuals are strength trained to ensure their efforts contribute to their performance and not the mechanisms of injury."
Together with Professor John Cronin from AUT's School of Sport and Recreation, he developed the Movement Competency Screen, a prognostic movement screening tool to help sport and health professionals better understand how people use their body when they perform fundamental movement tasks.
Website: ucsdtritons.com