Putting people at the heart of purpose
From telecommunications to insurance and now media, NZME CEO Michael Boggs has transferred his skills across some major industries. Insight caught up with the leader who says a relentless curiosity helped at every transition.
You studied accounting at AUT, you've been in senior roles in telcos and insurance and now you're leading one of New Zealand's largest media companies. What's your advice to graduates aspiring to work across sectors?
Business skills are highly transferrable across industries, if you're prepared to put in the effort to learn a new industry. A relentless curiosity will also assist any transition. I like to get a deep understanding of how a business operates - not just what a business does but how, and why, it operates the way it does.
We all have a view of a business from the outside which can help give a different, usually helpful, perspective. When I joined NZME, I knew The New Zealand Herald well, often listened to NewstalkZB and ZM and was a user of GrabOne. I had an affinity with the products. If you can't relate to the product or service, don't work for the company.
What skills should today's students who want to get into the media industry be developing?
I recently hosted students as part of AUT's Shadow a Leader day and I was inspired by the quality of those who shadowed me. Their thirst for knowledge, enquiring minds and can-do attitude was heartening – I'm pleased to report one has since started working with us full-time.
Look at what companies declare as their purpose, and think about what skillsets and attitudes they need to deliver on that purpose. NZME's is 'keeping Kiwis in the know' which is relevant across all our media channels of print, radio, digital and e-commerce. We're committed to protecting the craft of journalism and broadcasting because it is core to our purpose. We're always recruiting for skills that help us maintain and maximise our existing business, while also looking for those which help us as we develop into a more digitally enabled business.
The other thing to consider is that attitude is often as important as skillsets when it comes to recruiting.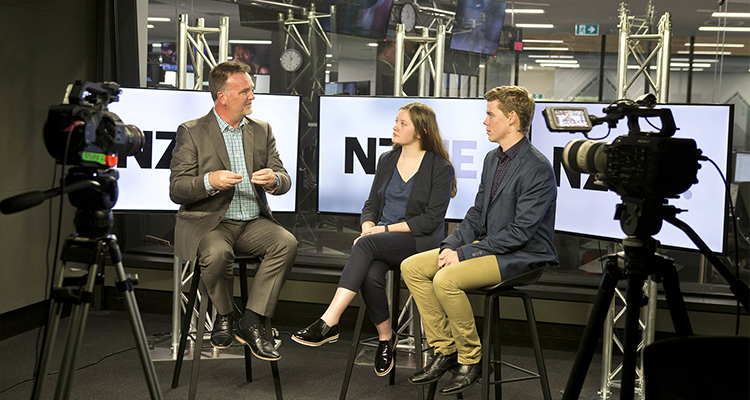 What is your biggest challenge as the CEO of NZME, a listed media company?
It will be obvious to everyone reading this that media habits have changed significantly over the years. Local commercial media companies are under considerable pressure to find sustainable ways to create content in a market increasingly dominated by global media companies and technology platforms. It's reported that Google and Facebook currently attract over 66 per cent of New Zealand's online advertising spend and that, internationally, search and social platforms are now taking over 90 per cent of incremental digital spend.
We need to constantly develop new business models to connect and empower our communities and meet the changing audience and customer needs and be clear on where we focus our resources and investments. This means we need business priorities that are well defined and simple to articulate to both our internal teams and our shareholders.
What do you think has helped your career progression and success?
I'm always up for trying something new and learning a different part of the business.
Customers, internal and external, have been at the heart of all my roles. I always think about who we are producing work or products for and about how we can improve. This approach means you will often change the way you think about the work you are doing, even if it is for an internal customer.
I've moved sideways in roles several times to learn new skills – this often feels hard at the time, but it has always paid off for me. And when I've moved companies, it's been for specific skill development or career progression.
I love doing my 'day in the life of' visits where I work with a team member for the day or having people doing 'CEO for the day' with me. It is always enlightening and I find I get new insight on improvements for the business from the team members.
I'm always looking to learn from people within the business, but importantly, from people outside the business too. I had a mentor who really challenged me to think big, often on topics unrelated to my day-today job. This often took me out of my comfort zone, but some of my best thinking was done in this mode.
"I recognised very early on that all businesses are about people. I've always made it a mission of mine to work with great people – as the saying goes, always hire someone better than you."
What type of leadership style inspires you?
Leaders who have inspired me to date have conveyed a clear sense of purpose for the business, allowed me to develop plans that support it and let me 'get on with it'. I find that this approach allows me to take on opportunities and challenges that are personally rewarding and good for the business. As you will have picked up, I enjoy being challenged and I enjoy variety.
Transparent and open lines of communication along with regular feedback are important for everyone, regardless of the level they are at in a business, therefore it's a critical trait I look for in any leader.
How did your time at AUT help with your career?
I found AUT to be a highly supportive and practical learning environment. It wasn't all about the theory, but more about how to put the learning into practice in a business. I was lucky enough to be working at the same time as studying so I was able to put into practice what I was learning at AUT as I was learning it! Something I'd highly recommend for anyone who thinks they'd like to give it a go.