Wāhine on her way up
One of her many social channels describes Miria Flavell as a mama, makeup artist, YouTuber and aspiring entrepreneur – there's more she could add but 'aspiring' is one word she could undoubtedly leave out.
The co-founder of activewear line Hine is thrilled, if a little surprised, at the growth of the brand she started in 2018 with her partner.
The collection which was created to represent all women and motivate them to feel confident in their own skin, received 20 pre-orders in its first season. Just over a year on, its winter 2019 collection received more than 4,000 – and the team behind the brand has grown to seven full time staff.
With Māori as her first language, a limitless supply of creativity, energy and ambition and a Bachelor of Māori Development in her back pocket, Miria Flavell and Hine Collection are taking it to the next level.
Congratulations on the success of Hine Collection. What are you working on now?
Hine has gone crazy in the last couple of months, it has had massive growth and I'm just so grateful for it. To see so many people wearing our clothes is awesome – I'm overwhelmed, it's next level. Since Hine started, I've designed our ranges and it certainly has not been a failure because it's got us to where we are now but I'm excited because we've now got an amazing designer in our team. We collaborated on our winter collection and it was a huge success – our biggest by far. We're working on better designs, better quality of fabrics, and a better approach to sizing. There's a lot coming up. Our next goal for Hine Collection is to open a flagship store in Hamilton – that's my goal for 2020.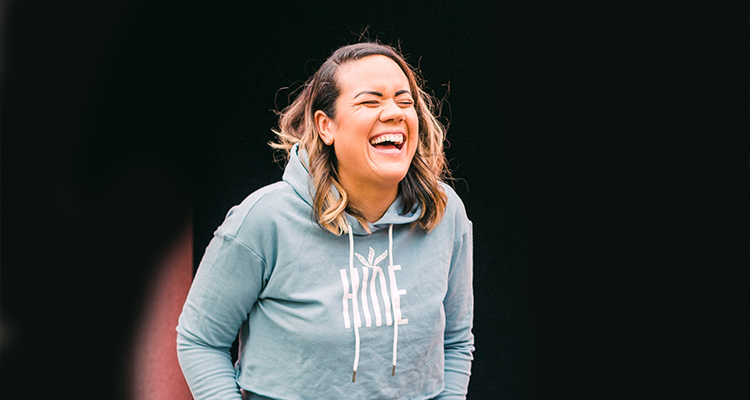 How did you get into business and become an entrepreneur?
I feel like I have always been entrepreneurial. I knew I wanted to work for myself, I wanted to work with my own resources and work my own hours. When I started having a family this tripled for me. I wanted to be at home more with my kids and live the life I always wanted so I became a self-employed makeup artist for four years. Then I was inspired to start Hine Collection, which I've been running for almost two years.
What advice would you give to aspiring entrepreneurs?
Go for it! Don't hold back. Everyone is scared of starting because they're afraid of failing. The thing is, you won't know if you'll fail unless you give it a go and start. It's not easy but it's so worth it. You have endless opportunities ahead of you.
"I want Hine Collection to be the number one women's activewear brand in New Zealand. Big dream, right? But I believe nothing is impossible."
What skills do you think are important to succeed in business?
Faith, passion and drive. If you don't have all three of those, you will struggle. Believe in yourself, be passionate about what you are doing and work hard for it - do whatever it takes to achieve it!
As long as you have faith, passion and drive, you have the ability to achieve your biggest goals.
How did your time at AUT influence your thinking and career choice?
My career has changed three times since I was at AUT. I am a huge advocate of saying, 'don't ever feel the pressure to have your life figured out at a certain age'. You will figure it out along the way, create new experiences and have fun.
What AUT gave me during my studies was lifelong friendships and experiences. But most of all it gave me the confidence to be a wāhine Māori in the media industry or any other industry. I remember Whaea Ella teaching us about the importance of kaupapa that are by Māori, with Māori, for Māori. This has always stuck with me.
Website: hinecollection.com