Strong start in United Nations leads to Māori economic and international mahi
AUT alumnus Kaden Wilson made a strong start in global politics with his 2018 internship at New Zealand's Permanent Mission to the United Nations (UN), which is responsible for presenting and advocating New Zealand Government positions in the UN.
He secured the New York based role – along with a scholarship to cover travel and expenses – through AUT Internz, a recruitment service that places students in internships and graduate roles in New Zealand and around the world.
The AUT alumnus who has a Bachelor of Arts, Bachelor of Laws and Master of Human Rights recently landed back in New Zealand and is now putting his policy skills to work strengthening the economic wealth of Māori.
One of the lessons he's brought back from his UN experience is an interest in drawing policy ideas from the experience of others.
"I'm always really grateful to have a chance to learn from other countries."
As a policy intern at the UN for four months, Kaden was exposed to the internal mechanisms of two of its six main committees. He also supported policy work and relayed information to New Zealand Government Ministers and representatives when they visited. He was "on the ground - providing government delegations what they needed to effectively do their jobs".
Working in the third committee on social, humanitarian and cultural issues, Kaden helped progress UN positions on indigenous issues, the status of women and the convention on disabilities.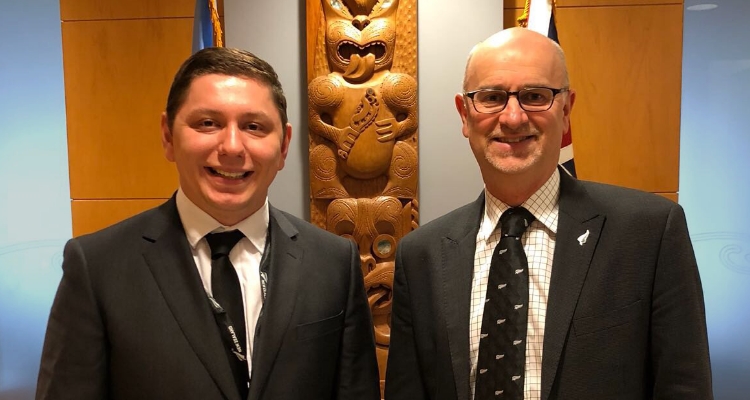 "New York was a busy and rewarding experience in its own right but now it's time to take my experiences and get on with sustained mahi – work that's more permanent where I can begin to make lasting impacts."
"Coming from a human rights, law and arts background, the third committee work was in my wheelhouse," says Kaden. "The fifth was completely new, it was operational, how to get the things we talk about done – it was incredibly valuable."
The fifth committee was focused on the UN administration and budget. Here Kaden supported negotiations on a range of different areas including funding of UN peacekeeping missions and putting some of the largest reforms the UN has seen in its 70-year history into action.
"We were making sure the vision of the Secretary General and the countries that appointed him was realised by the UN itself."
This work particularly influenced his decisions about the next steps in his career path. "I'd done some great academic and theoretical work at AUT, now I needed to understand how we support that theory in a practical way."
That led Kaden to his role at the Ministry of Māori Development - Te Puni Kōkiri.
"It's exciting times," says Kaden. "New York was a busy and rewarding experience in its own right but now it's time to take my experiences and get on with sustained mahi – work that's more permanent where I can begin to make lasting impacts."
As a policy analyst in the economic wealth team, Kaden is focusing on implementing best policy practice here in Aotearoa. "The idea is that strong Māori business will flow on back to whānau and provide benefits for communities to thrive."
He's also paying close attention to what we can learn from the rest of the world, by working with other governments supporting their indigenous communities, collaborating on economic and social policies, and learning from others about how our indigenous communities can do better.
Kaden was part of the team working on the 18th World Indigenous Business Forum to promote international business and trade opportunities last October. He supported Māori Development Minister Nanaia Mahuta to host a wānanga for ministers and delegates from Australia, Canada, Chile, and Mexico.
"It's a great chance to learn from other countries that might have policies and ideas we haven't touched upon or haven't got quite right.
"That's something I got from working at the UN, every relationship offers an opportunity to learn."
Internz connects great AUT graduates with world-class employers in New Zealand and overseas. Visit internz.aut.ac.nz to find out more.