Avice: Taking weight training to the next level
How do you know that your weight training session is effective? That's the question engineering alumnus Parn Jones and his colleagues from start-up Avice are trying to address.
Complete a university degree or take the plunge as an entrepreneur? AUT engineering alumnus and Avice co-founder Parn Jones discovered it doesn't have to be one or the other.
Less than two years after Parn completed his Master of Engineering degree, his start-up has released its first wearable device, edging them closer to their ultimate goal of licensing the core technology.
The device developed by the Avice team provides realtime feedback during weight training exercises, allowing individuals to train at their optimal level for muscle growth.
Company director and chief technology officer for Avice, Parn says he and his co-founders came up with the idea while working on their research projects at AUT's Institute of Biomedical Technologies (IBTec).
"I've always wanted to be part of a start-up company, and I appreciate how AUT supports start-ups and entrepreneurs. Without the AUT Ventures team, we wouldn't be where we are. They have been amazing in helping us get exposure for our product and providing extremely valuable resources."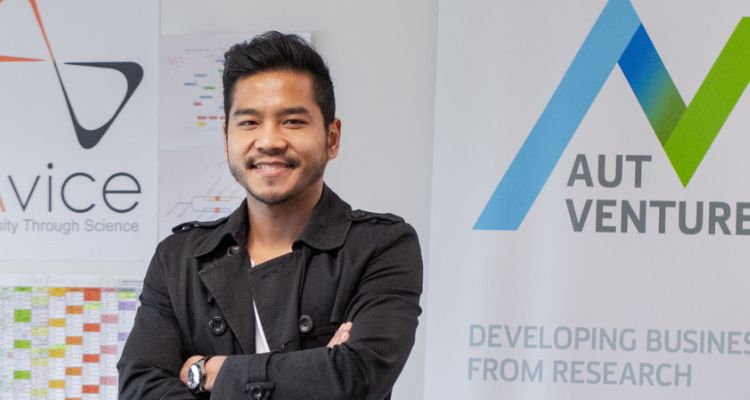 "It was a really cool environment. I was studying and doing my research at IBTec and I was surrounded by smart, like-minded people working on interesting medical research and projects. Sam Paritotokkapron had an idea around portable ultrasound technology and the beginnings of Avice grew from there and conversations in the IBTec kitchen."
AUT staff have also been vital in helping Parn and his co-founders establish their start-up – from the AUT professor who acts as an advisor to the University's commercialisation team, AUT Ventures.
"We're all geeks and nerds who started this process knowing a lot about technology and almost nothing about commercialisation or intellectual property or how to go about getting funding, so the AUT Ventures team – Mitali Purohit, Wilson Huang, Amber Taylor and Steve Corbett – has been a huge help with that side of things," says Parn.
AUT Ventures client outreach manager Amber Taylor says the team is committed to fostering student entrepreneurship.
"We have access to seed funding to kick-start business ideas and more substantial funding opportunities available through our partners and investor networks. We specialise in market validation, intellectual property protection, and commercialisation strategy."
Early successes for the Avice team and their idea have included awards and funding from AUT, Callaghan Innovation, KiwiNet and Zino Ventures but Parn says they have even bigger goals for the future.
"We aim to be experts in using advanced technology to provide meaningful, science-based information to the weight training market to optimise muscular fitness. We want the large wearable technology companies to be using our technology."
Website: avicewearables.com