Alumni giving back
Remember those burning questions you had when you were a student, about what it is like to actually BE employed?
The AUT Employability and Careers team is always on the lookout for alumni to provide frank and genuine insights into life after AUT. Alumni involvement is an important part of the expansion of industry events the team has been working on over the past three years.
AUT student employability specialist Emma Spires says recent graduates are a great source of information for students.
Fellow student employability specialist Mandy Bunce says alumni offer invaluable suggestions on strategies to find employment.
"For example a graduate on a panel at the ICT/Engineering Career Fair talked about how he networked and reached out to the organisation he wanted to work for. He went to their meetups and did a whole lot of networking before he even applied for a job there. This is very empowering for students to hear – and reinforces our messages too."
Datacom software developer Clyde D'Souza says as a student he was always excited to attend networking events to gain insights into company cultures, expectations and work ethics, speak with recent graduates and get industry-ready.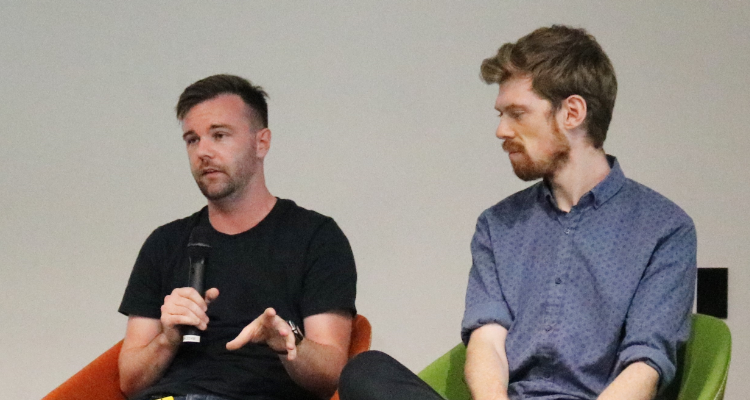 "Students feel more comfortable asking questions of alumni, rather than senior managers or recruiters who they are trying to impress. Alumni have frank and genuine conversations. They can say '12 months ago or two years ago I was sitting in your shoes, now I'm here and this is what it was like to get here'. "

Emma Spires, AUT Student Employability Specialist
"Years later, when I was given opportunities to share my journey and experience with other students through AUT events I was equally excited. I'm glad to make a difference even if it is by just answering their questions."
Second Nature Charitable Trust community coordinator Tiana Tuaia's involvement with events helps her organisation create brand awareness and employment opportunities for students. More personally, it is about sharing her experiences.
"In my time here, I have come to understand how important tuakana-teina (older-younger) relationships can be for people as they prepare to enter the industry and workforce. Sometimes pursuing a job is a daunting and overwhelming process. Having someone to talk to who has recently been in the same position as you is encouraging."
Vodafone cognitive engineer (AI and automation) Madonna Bekhit says she "craved intel" about the outside world, particularly about careers.
Ways to give back
This year AUT Employability and Careers hosted 126 events attracting nearly 5,000 students and involving more than 100 organisations. Within those organisations were a growing number of alumni wishing to give back and we'd love to see more of you.
Employability Matters, our flagship event, is a week-long series of presentations, panels and workshops, running each semester.
Career fairs provide great opportunities for organisations to put their brand in front of students.
Alumni panels, faculty presentations, leadership speakers and on-site visits are other great ways to connect with students.
The Employability and Careers team values the generosity of all alumni who come on campus to share their experiences about transitioning to the workforce as well as knowledge about their industry's trends and outlooks. Could this be you in 2019? Contact our employability relationship managers to find out more about what you can offer.
Email: autemploy@aut.ac.nz