Rocket Lab leads the space race
The multibillion-dollar space industry has been so far dominated by nations, not companies, but a business founded in New Zealand has recently been making headlines by launching satellites into orbit.
Putting New Zealand on the world map in the aerospace industry is Rocket Lab, a company founded by Kiwi Peter Beck. Headquartered in Huntington Beach, California, Rocket Lab is at the forefront of launching small satellites into orbit.
Almost every aspect of our modern lives is dependent on satellite infrastructure - EFTPOS, Google Maps, Uber and internet connectivity are just some examples. As technology gets smaller, so do satellites that carry out these crucial functions. Putting these small satellites into Earth's orbit at the frequency envisioned by Rocket Lab could transform our day-to-day lives.
Playing key roles in this ground-breaking company are AUT alumni Morgan Bailey (communications manager) and Craig Fernandes (junior manufacturing engineer). Insight catches up with them after Rocket Lab's most recent launch of the rocket it named 'It's Business Time.'
Morgan Bailey
Communications Manager
What's it like running communications for a company that deals with space?
challenge but it's incredible to be part of a team that's completely revolutionising an industry.
Although I wasn't one of those kids who dreamed of working in space, I did somewhat ironically tell my parents that I wanted to work with NASA when I grew up. I think I just thought it sounded cool. I didn't have much to do with space until I was working at a communications agency and I worked on a project for Rocket Lab. I instantly fell in love with the industry and knew that I didn't want to do anything else. It's hard to go back to Earthbased applications once you've worked on space.
What do you enjoy most about your role?
I get to work on an incredibly broad range of things. I could be running our live webcast operations during a launch one day, then I could be at our Huntington Beach headquarters meeting with the Wall Street Journal or New York Times, before heading to Virginia to break ground on our first US launch site at a NASA flight facility. It's funny thinking back on the conversation I had with my parents about wanting to work for NASA - they are now our customer, so I get to work with them regularly.
What are some of the challenges you face?
One of the biggest challenges is the pace at which we operate – not just Rocket Lab, but the industry as a whole. It's highly competitive - you have to really be able to keep up, be dynamic and allow for change, but it's a challenge that you come to relish. If I were to go back to a job where everything was planned out and went according to plan, I would find that dreadfully boring.
What are some of your inspirations in this role?
Two key things inspire me – our customers and the applications of their satellites that we are putting in orbit, and our team. Our mission is to open access to space to improve life on Earth. The technology that our customers are putting in orbit can really change a lot of people's day-to-day lives here on earth and that's naturally inspirational. For example, the satellites that our rockets take into space could enable environmental sensors to track the health of the Great Barrier Reef, provide better internet connectivity to remote parts of the world and enable better weather predictions.
Our team also really inspires me – they are incredibly talented and innovative. They don't accept the status quo and that things can't be better, and they push so incredibly hard. I work with around 350 people who are all utterly dedicated to their work, the purpose and who strive to achieve something greater than themselves.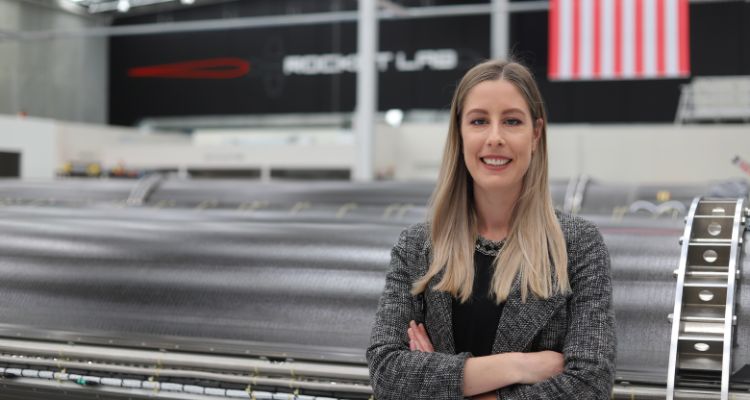 What does your role as a communications manager involve?
I lead a team at Rocket Lab responsible for external communications. My role also involves engaging with the media, leading a content creation team, overseeing the broadcasting of our launch webcasts and working with our customers on marketing and communications materials.
How did your time at AUT contribute to the various roles in your career?
One of the things I found really useful was a practical paper I did in my final year at AUT. During that paper, students were assigned to groups and we worked as if we were in a communications agency. That helped me understand how the theory we had learnt translates into real-world application. My time at AUT also helped me build a broad network of contacts in various parts of the world, that I could tap into later in my career.
"It's an enormous role and a great challenge but it's incredible to be part of a team that's completely revolutionising an industry."
Craig Fernandes
Junior Manufacturing Engineer
Did you get to see 'It's Business Time' take off? How did that feel?
I was watching it from our Auckland facility, looking into Mission Control. It was definitely an amazing feeling knowing that everything went well and that all of our delays have been worth it. To get everything right on the go is just an amazing feat, because there are so many things that can go wrong – not just the vehicle, but the environment, the weather, et cetera.
What is it like to be working in a company that is disrupting its industry?
It's phenomenal. Being part of a team that's dedicated to the improvement of human potential on Earth and shaping history is just amazing. At Rocket Lab, we're all about innovation and if we can do something better, you can sure bet we'll do it.
What do you do in your role as a junior manufacturing engineer?
I'm the link between the team that designs the rocket, and the technicians who manufacture and assemble its different components. I take care of the mechanical production of rockets and write the 'holy bible' on how to build all the mechanical components before they are assembled.
I'm also heavily involved with the quality testing of our rockets and work closely with the technicians to improve their build. This opportunity to make improvements to the manufacture of our rockets and therefore their performance is definitely the most exciting part of the role for me.
I also create and enforce some of Rocket Lab's aerospace standards.
What's been your most memorable moment at Rocket Lab so far?
Seeing our first rocket, 'It's a Test,' take to the skies. The thing is, you see the rocket in the factory, you see it built, but when you see it on the launch pad and it takes off – that's just something else. It's incredible.
It was our first test flight and I was on site at Launch Complex 1 in Mahia as part of launch safety operations. There was an electric feel around all of us when we realised that we had made history. It was an achievement not just for Rocket Lab but for Aotearoa as well - as a nation, we were taking a huge step forward in the space industry.
How did your time at AUT prepare you for this role?
I loved the overall experience at AUT, I wanted to do something practical and hands-on. I think it's important to learn the theory and calculations, but when you see it in person, it changes everything. It's like a different perspective and I think that students should always get that with their education.
I found that the lecturers were highly skilled in their field and had also worked in the industry. The School of Engineering gave me all the tools required to tackle any field and I'm incredibly grateful for what I've learnt over the course of my honours.
"Seeing our first launch vehicle 'It's a Test' take to the skies, there was an electric feel around all of us. We had made history - not just for Rocket Lab, but for Aotearoa as a nation."
Although they have just launched their first commercial rocket, Rocket Lab doesn't show any signs of slowing down. In fact, they are gearing up for a launch carrying NASA satellites, before transitioning to regular monthly launches in 2019. As they say, "Space is now open for business."