Eating naked with Amino Mantra
Amino Mantra started out as a love story between a food scientist and a chef, who both bring their unique and complementary expertise and heritage to the food they produce.
Amino Mantra is a New Zealandbased initiative founded by husband and wife team. Chef Pritesh Kajaria from India (AUT graduate) and food scientist Trang Duong-Kajaria from Vietnam aim to provide healthy plant-based food options that will nourish your body, bring a smile to your soul and leave a lighter footprint on our planet.
"Through our years of experience in the food industry we've seen the negative impacts that our modern eating habits have on our bodies and the environment," says Pritesh. "After we had our baby, we became determined to make a difference for ourselves and the next generation. We started practising a zero-waste lifestyle and learned how a plant-based diet can improve our health and wellbeing."
They were however, disappointed to discover that many plant-based food options on the market were full of processed ingredients such as extracted gluten and texture-modified proteins. They then started to produce their own delicious, nutritious food that made them feel fantastic. When they found that more and more people were looking to move to a plant-based diet, Pritesh and Trang identified with their struggles to find healthy, nutritionally complete options. Realising that good food can add value to people's lives, they became determined to share their products with others. And with that, Amino Mantra was born.
Their motto: "When it comes to health and flavour, we don't mess around. Nor do we mess around with nature." They say they like food in the nude (that is, keeping it in its most natural form and never adding preservatives, artificial additives or ultra-processed extras), just the way mother nature made them.
"As human beings, we have responsibility towards our health, our future generations and our planet. We believe we all have power to make a positive change in our lives and influence others to do the same, and this is what Amino Mantra is about," says Pritesh.
They are currently producing a variety of plant-based patties which they sell online and at local farmers' markets across Auckland such as at the Parnell Trust and Grey Lynn Farmers' Markets. The aim is to expand their product range after one to two years and take their products to Australia, the UK and Canada in the near future as they are already receiving strong interest from these countries.
Pritesh and Trang's combined expertise and heritage results in a fusion of flavours and an interesting food creation process. While Trang selects ingredients that are nutrient-dense and ensures that all the products have the nine essential amino acids, good dietary fibre and fatty acids, Pritesh creates bold and punchy flavour combinations with natural herbs and spices. All their food is hand crafted in small batches. Their products include the Indianinspired Fijian turmeric and cumin patty and Asian-influenced caramelised garlic and chives patty. Many of the ingredients that they use, such as turmeric, amaranth and mung beans are also known in their cultures for their health benefits.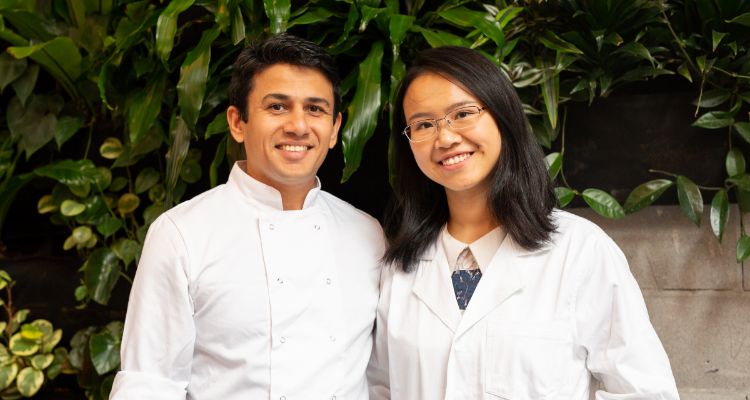 "Looking back, I am glad that I joined the CO.STARTERS programme. It helped me turn a nascent idea into a viable venture. CO.STARTERS gave me tools to break down my bigger goals into achievable smaller goals and helped me be accountable to myself to accomplish them."

Pritesh Kajaria, Chef Amino Mantra
Pritesh says his venture to start Amino Mantra was greatly helped by his participation in CO.STARTERS, a programme that equips aspiring entrepreneurs with the insights, relationships, and tools needed to take the next step in building a sustainable business.
It also led him to meeting Natalie Robinson from Mum's Garage, an organisation that teaches people how to start and grow companies, and this has been the biggest turning point, he says. "Natalie has helped us throughout our business journey and launch. She is now our business mentor and a very good friend."
When asked if he has any advice for would-be entrepreneurs, he suggests they critically evaluate their concept and be prepared to adapt or change their direction anytime.
He also emphasises the importance of developing an entrepreneurial mindset. "Right from day one of attending school through to finding a job, we are subconsciously trained to be smaller cog within bigger machinery, to fit in with the trend and follow orders. It will take a lot of mental and emotional courage to un-train from the follower thought-process and retrain to think as an entrepreneur."
"In the long-term, it is critically important to look after your mental health as the entrepreneurial journey takes a toll on you mentally and physically, but remember that failures and road blocks are part of building a start-up. So you should learn to celebrate small successes."
Websites: aminomantra.co.nz and aut.ac.nz/costarters