Space for creativity
When visiting a new planet, what sort of shoes would you pack? If you were a designer for a company disrupting planet Earth's approach to footwear, they'd almost certainly be environmentally friendly.
San Francisco-based product designer April Gourdie started planning her trip through time and space at the end of 2019, unaware she was really preparing for 2020.
Reentering New Zealand's atmosphere via a managed isolation hotel a year later, the AUT alumna who has become known as the 'knit person' of Allbirds' product team explains: "San Francisco felt like being in space and coming to New Zealand feels like coming back to Earth."
April has been stamping her mark on Allbirds since she joined as an intern in 2017, when it was a growing business using merino wool to disrupt the footwear industry. Placed by AUT's global internship service AUT Internz, the Bachelor of Design graduate's first project was to create a unique tread pattern for a new shoe sole made from environmentally friendly sugarcane. It became April's first patent.
"I've got to be grateful that lockdown has given me the space to be creative on my own accord – not relying on uni or my profession. I don't want to lose that feeling – I know how important that is. It's a lifelong space mission."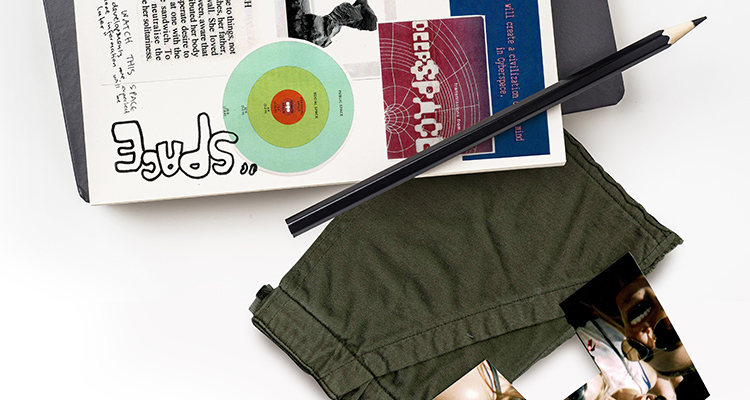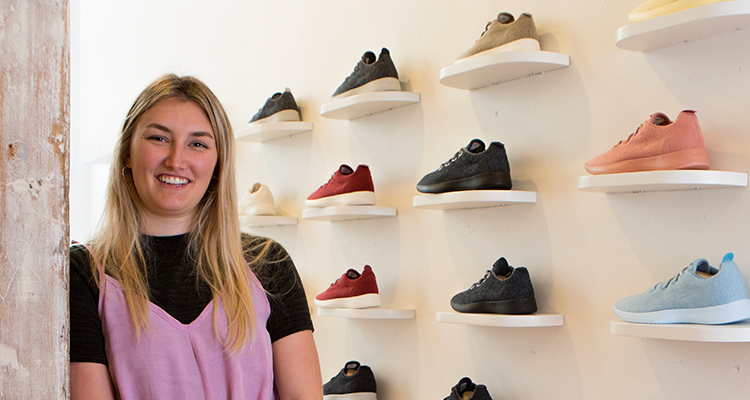 April credits the technical expertise she developed in her final year at AUT for giving her the foundations to work alongside Allbirds' departments of design, development and merchandising.
"That's what I loved about AUT, it was really rooted in technical knowledge, which is a basis for all the creative stuff to sit on. "I've had a really beautiful scope of work with Allbirds – as my first job out of uni it's been amazing to be exposed to many different projects and ways of working.
"I've always been given an awesome balance of creative and technical projects. I get to work on anything that's knit based, and many our products are knitted."
One of her favourite 2020 projects was a collaboration with The Metropolitan Museum of Art to mark its 150th anniversary. Allbirds designed and produced a limited-edition collection inspired by famous pieces of art. In discussion with The Met team, April selected artworks then interpreted each one into a shoe, seeing it through to development. "That was a really awesome project to work on."
Fast-forward to March 2020, the company has grown from 60 to around 400, and April and her colleagues were thrust into lockdown. While missing the work culture, she was quick to find positives. "There were times that were really not nice, but I've found that I'm far more efficient in my job and I've developed a real sense of work-life balance for the first time."
The California lockdown also presented her with the time and space to indulge in more personal creative processes. One was to deconstruct pockets. "I had all these old clothes and all the fabric stores were closed so I cut all the pockets out. Then I started looking at the concept of what is the difference between a pocket and a bag? A bag is a container, and a pocket is effectively that but is attached. It was a weird little conceptual project. Then I started making all the pockets into bags."
Her most useful project was a sketch book she'd started months before, which proved to be her most grounding force. The book starts with some prompts: "If I was 'April the astronaut' going to a new planet, what would I need to design and make? What food and what vehicle would I need? What shoes would I need and how would they be weighted down?
"I refer to it as my 'Space Book'. It's a space to research, create and explore my own creative process without expectations. I didn't need to show anyone what I was doing, there was no validation of the process, it didn't need to result in anything, and I didn't even need to finish it.
"People used to ask me about my hobbies, and I'd say – 'I'm lucky, I got to do my hobby as a degree and now I do it for a job. But that takes it to a place where the outcome depends on something like a grade or making money. Lockdown has taught me that I don't have to do that."
With no prospect of an end to California's lockdown by late 2020, April returned to New Zealand to continue working remotely, the only difference being a new time zone to factor in and the opportunity to see friends and family. After seeing nobody apart from her flatmate for five months she went from one extreme to another but is determined to keep hold of her newfound balance and creative process.
"I've finally found my own creative practice. I've got to be grateful that lockdown has given me the space to be creative on my own accord – not relying on uni or my profession. "I don't want to lose that feeling – I know how important that is. It's a lifelong space mission."
Website: Textile + Design Lab