Entrepreneurial alum thriving on business success
Success tasted sweet for Denym Bird from the moment he started honing his entrepreneurial skills as a student at AUT.
"I wanted to earn income without having to work. I needed to spend my time studying," Denym says. "I ended up buying five vending machines - ice cream vending machines because other types already dominated the market." He partnered with Tip Top and strategically placed them at swimming pools around Auckland. "That was very exciting. I learned how to make deals with companies.
I realised this is what I wanted to do with my life." Unable to maintain the machines from Hong Kong during a third year international university exchange, it also became his first experience selling a business.
Denym discovered he loved "the thrill of doing something new and bringing people together – and now I can't stop."
Since graduating with a Bachelor of Business in Business Information Systems and Marketing in 2015, he's gone on to start an additional four businesses – each very different.
There's his consulting firm Hypergiant, started in 2017 through which he acts as a virtual marketing manager for clients including Xero, A2X and Tradify.
There was Cryptosaver, also in 2017, Australia's first regulated platform for retail investors to buy Bitcoin through regular weekly payments.
And Paintvine, New Zealand's largest creative events business which hosts more than 700 events annually, proving painting and wine to be a winning combination.
Then his latest, Delivereat. Frustrated with long supermarket queues during New Zealand's COVID-19 lockdown and unable to find much online, Denym created a food delivery directory that connected half a million Kiwis with thousands of independent food producers delivering during lockdown.
"Studying business felt like the right choice. It came from the aspiration of wanting to build things. First I thought I'd build films and now I'm building businesses"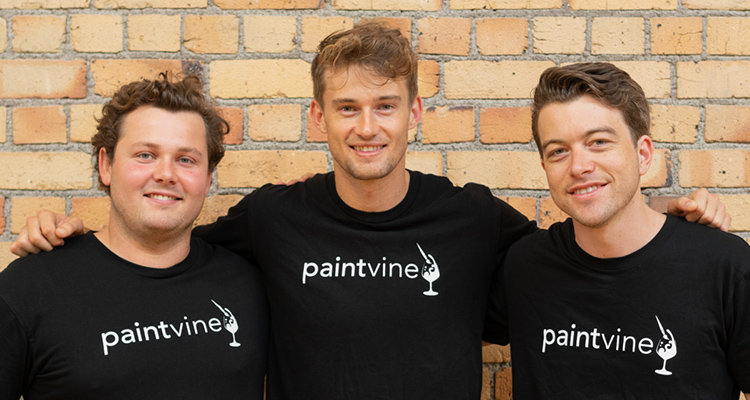 One of these businesses was acquired (Delivereat), another one he wound down due to not getting the right product-market-fit to make it sustainable (Cryptosaver) and the remaining two he runs are still thriving.
It's the creative events company Paintvine that Denym is most proud of. It hosts more than 15 weekly painting and wine events in eight cities across New Zealand, has a team of 25 artists and admin staff and is close to achieving $1 million revenue.
"I was on a business trip in the US and saw someone in a bar set up an art class. Everyone had a really great time and I thought the concept was very interesting - and no one was doing it in New Zealand."
In late 2020, Paintvine won the Westpac Business Awards People's Choice Award along with the New Zealand Events Association Best Event Marketing Award.
Denym says becoming a full-time entrepreneur just two years after leaving university has been his "biggest achievement". As an entrepreneur, he says, you can realise the value of your hard work. "You can actually see someone buy your product. I get to create things that didn't exist before and that people really enjoy.
"I was sitting in a painting and wine session and saw everyone laughing and enjoying it. Maybe it was their first date, maybe their fiftieth. And I thought 'This is an experience I helped create. I thought of it and brought it to life'."
Denym, who features in AUT's 'Find your greatness at AUT' campaign, originally wanted to study communications and become a film director. But he realised competition would be tough, and that he had a knack for business and entrepreneurship.
"Studying business felt like the right choice. It came from the aspiration of wanting to build things. First I thought I'd build films and now I'm building businesses.
"I'm very happy that I went to university, especially AUT. AUT puts a lot more emphasis on the practical side of things. Obviously theory is important but it's not all. AUT also shows you how to do things practically."
Along with important lessons about branding and accounting, Denym draws on what he learned studying information systems. "We learned how Domino's online ordering system works from the backend. What looks so simple to the customer is actually a very complex system. "It made me realise the value of systems and how to build them. It's something I still use now, building interfaces that are easy to use for the customer."