Planning for potential
Scholarships are a way to encourage and nurture talent and can also be the sustenance required to get an important research subject off the ground, one that could impact the world.
In recent years, AUT has been refining its approach to offering scholarships. What the University now offers is a streamlined set of schemes for every study level.
Trish Richardson, Head of AUT's Scholarships Office, says she and her team have been looking at how they can create a programme of support for students at every stage of the academic lifecycle. "We've started with the school leaver and looked at what they need to support a successful transition to university."
One extraordinary school leaver attracted to AUT in 2020 was 13-yearold prodigy from Vietnam, Vicky Ngo Ngoc. After moving to New Zealand for educational opportunities in 2018, she was fast tracked through St Thomas School and Selwyn College, graduating as a top scholar for Year 12 in 2019.
She chose to study economics and finance at AUT through a special AUT Vice-Chancellor's Undergraduate Scholarship which covers full tuition fees for her undergraduate degree. She has also been provided with pastoral care.
Trish says the University Scholarship Committee also assessed how scholarships could best support AUT's undergraduates at the various stages, then how they could be encouraged beyond their degree.
"We want to work hard to attract our high-performing bachelor alumni into postgraduate and master's scholarships." While most of the scholarship funding comes directly from AUT itself, the scholarships office makes it easy for AUT students to connect with the many important philanthropic partners and funders behind a wide range of scholarships on offer.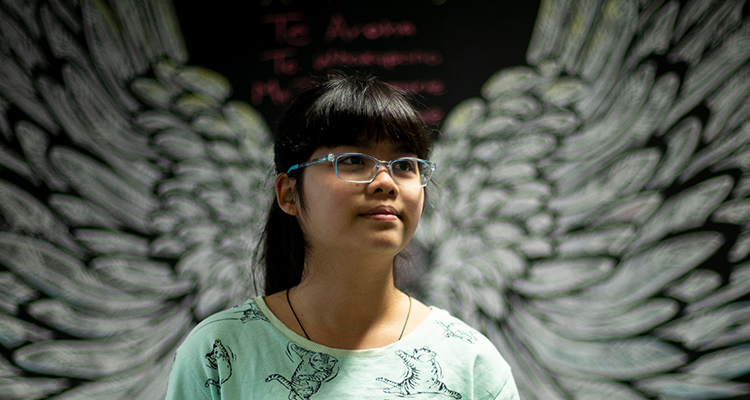 Thorne Snow is an example of a scholar nurtured through his journey at AUT. He began undergraduate studies with support from a Woolf Fisher First-in- Family AUT Scholarship. Working full time through his Masters in Creative Writing during 2020 with charities such as Variety – the Children's Charity, the Healing Through Arts Trust and the Neurological Foundation, Thorne also paid it forward as a mental health advocate.
At the end of 2020 Thorne was awarded a William Georgetti Scholarship, worth $20,000. He says the scholarship will not only be a huge help financially as he completes his master's, it will also give more reach to his book, 'What It Means to Be a Cockroach', which he hopes will be used in primary schools to open the narrative about mental health.
Trish says AUT has also increased funding for doctoral-level research, "and while graduates from other universities can apply for that, our core strategy is to support our AUT alumni right through undergraduate, postgraduate, to doctoral."
AUT doctoral scholarships have recently been awarded for research into microbiology, global warming and social research.
AUT scholarships at a glance
Vice-Chancellor's Scholarships
The largest pool of scholarships delivered here are funded and directed by AUT.
School Leaver – up to 140 awarded annually, delivered in four categories: academic excellence, significant student (based on academic performance coupled with community and cultural leadership), KIWA (for Māori and Pasifika) and New Horizons (for high performing students from decile 1-4 Auckland schools)
Undergraduate – 135 awarded in 2020
Post-graduate – 33 awarded in 2020
Research Master's – 11 awarded in 2020
Doctoral – focus on supporting high performing postgraduate students, or research projects of strategic importance to the University, New Zealand or the world.
Donor-funded Scholarships
Many of AUT's important scholarships are delivered by philanthropists including:
Woolf Fisher First-in-Family, a partnership now focusing exclusively on students entering AUT South Campus – up to 15 annually
Keir Trust Study Award – a scholarship from one of AUT's founders that supports financially disadvantaged students at all study levels – 10 Auckland awards / 4 regional awards
Freemasons – a significant award across all New Zealand universities with AUT scholars benefiting each year
Kate Edgar Educational Charitable Trust – a significant award for women across all New Zealand universities, with many AUT scholars benefiting.