Life in the fast lane for AUT start-up
Life has been full throttle for Benjamin Bray and his former classmates Tyler Hinde, James Hurlock and Levi Jacobsen since they graduated with Bachelors of Creative Technologies in 2016.
Their VR start-up Float Studios was acquired by Australian production company Finch, they moved from Auckland to Bondi Beach, and are now blazing a trail at Finch's recently rebranded technology and innovation arm, Nakatomi, with the likes of Google, Dom Perignon, ABC, Spark and Nestle among their ever-growing list of high-profile clients.
"We started Float Studios together with Charles Hlavac and Jake McPherson in our third year at AUT and joined Finch in early 2017. It's been the perfect environment for us to continue growing," says Benjamin, now Executive Producer at Nakatomi, and working alongside Tyler (Art Director), James (3D Artist) and Levi (Game Developer).
"Finch is a truly innovative business. It would have taken us years to get the exposure and experience to work with the clients that we do now. In the past three years we've worked with so many incredible companies and are adding value like we had never anticipated."
Among the many highlights is a recent collaboration with indigenous artist Christian Thompson to create Bayi Gardiya (Singing Desert) - an immersive art experience designed to preserve the lost language Bidjara. Unlike anything else the Nakatomi team had ever worked on, the project was named VR Film of the Year at the 2020 Real World XR Awards show and has been added to the National Film and Sound Archive of Australia (NFSA).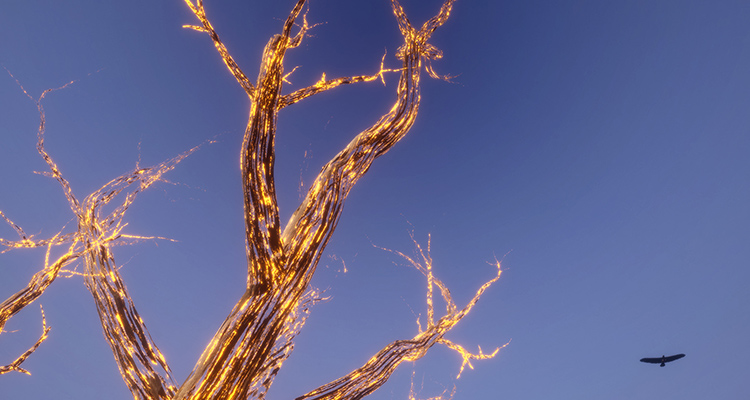 "The immersive nature of VR promotes a sense of empathy for the user that is incomparable with other media. This all-encompassing experience was the perfect medium to tell Christian's story and we were so grateful for the opportunity to bring it to life. It was massively encouraging to see this indigenous work not only recognised as Film of the Year, but also for it to be added to the National Film Archive."
Launching interactive nautical empire game Kraken to the Steam Store provided another pinch me moment, along with heading to Germany to speak about their involvement with Project Revoice - a ground-breaking digital voice clone that enables people with Motor Neurone Disease (ALS) to continue speaking in their natural voice once they've lost the ability to talk. That project won a Cannes Lion and a D&AD black pencil – the ultimate creative accolade. But even more importantly, it has the potential to rewrite the future of communication for those living with ALS.
It has been an unexpected and surprising career trajectory for Benjamin, who struggled to find his place in high school, and enjoyed so many different subjects that he was reluctant to commit to any one in particular.
It wasn't until he got to AUT that all the pieces of the puzzle fell into place. "AUT gave me an understanding of multiple fields and how to collaborate with other like-minded people. Creative Technologies was a mix of business, design, game development, physical computing and programming. It enabled me to merge all these areas which I now draw on in my career."
The Float Studios team thrived in AUT's supportive, collaborative studio environment and believe the University played a key role in helping them get where they are today.
"When we started Float Studios, we had no idea what it took to run or set up a business. AUT was incredibly helpful in those early days. Not only did they give us practical advice on business structure and incorporation, but they also arranged meetings for us with investors. Our lecturers went above and beyond to support us through our degree while also allowing us to spend university hours working on commercial projects."
One lecturer in particular - Stefan Marks - was pivotal in their success. "Stefan entered a piece of our work into the 2016 NZ Best Awards, which ended up winning a Gold Pin in the Experience category. This gained us international attention and landed Float Studios its first paid project Category Five, a VR training and recruitment tool for the Australian Defence Force. That was the project that really jump-started our careers."
Since then it's been a journey full of excitement and growth. "I'm constantly learning and developing new skills, but that's the fun part! If you are self-motivated, have a hunger for creativity and like sticking your fingers in a lot of innovative pies, there is no limit to what you can do."