Mind over matter
Alexis Pritchard (aka Lex) helps people build the mental skills they need to smash their goals.
She co-owns inner city boxing gym Wreck Room, and runs Rebuild with Lex, a mental skills and performance coaching business that encourages people to be more than they ever dreamed. When she's not inspiring clients at the gym or clinic, you might find her running empowerment workshops for teenage girls, inspiring school kids in her role as NZ Olympic Ambassador, or even hosting positive mindset seminars for AUT.
"Helping people is in my blood – my father is a psychiatrist and my mum is a nurse, I was always going to end up helping people," says Lex, who graduated from AUT with a Bachelor of Health Science (Physiotherapy) in 2011.
"I teach people the skills they need to get out of their own way and live courageously. For me, the really important bit is how you communicate with yourself. Our thoughts are so powerful and we have to live with ourselves 24/7. We can be our biggest critic or our strongest cheerleader and depending on what avenue we go down, we get very different results."
"My first contact spar reduced me to tears! I don't have tendencies to violence or aggression outside of the ring, so getting hit was quite startling."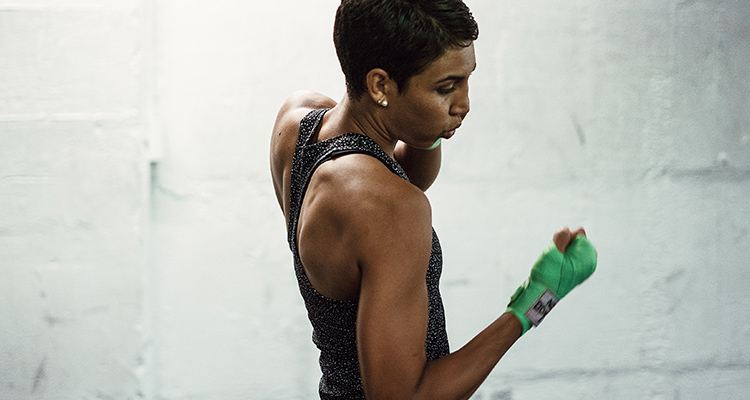 When it comes to results, she knows what she's talking about. Her 16 year boxing career took her to five world champs, 11 national titles, two Commonwealth Games (winning bronze in 2018) and an Olympic Games. Not only was Lex the first woman to win a bout at the Olympics for New Zealand, but she secured the country's first Olympic boxing win in 16 years.
"I started boxing just for fitness when I was 19 but I instantly fell in love with it. I really liked the gym environment, the friendly instructors, and feeling the power and energy of hitting the bag. I'm tall and skinny but boxing made me feel strong."
Boxing coach Cam Todd (now Lex's business partner and husband) instantly saw her potential and suggested she try boxing competitively.
"My first contact spar reduced me to tears! I don't have tendencies to violence or aggression outside of the ring, so getting hit was quite startling."
With two distinct sides to her personality Lex faced her first hurdle to athletic success. "I had an alter ego, 'Boxer Lex'. Boxer Lex hit people really hard and was assertive, but then there was 'Physio Lex' who wanted to do nothing other than help and heal people. For a long time that held the athlete in me back because I was trying to box in a nice way. Nice boxers don't succeed!"
"When we can get our mind on our side, our potential is limitless. Everyone can learn to be so much more than they thought. You learn the skills, you practice the skills, and they change your life."
While simultaneously pouring all her energy into the boxing ring, Lex juggled full-time study, and later a career.
"AUT was incredibly supportive and lecturers would allow me to hand work in late when I was overseas competing. I also had a group of great classmates who I'm still friends with today. I'd go away for a three week competition and they'd get all the notes for me and help me with the tutorials when I got back. If it wasn't for them, I don't think I'd have done so well academically."
Prior to that, Lex completed a Bachelor of Science at the University of Auckland, but it wasn't until she got to AUT that she really thrived. "The campus was so friendly and familyorientated, and the work was really enjoyable. I just loved the AUT vibe."
And with a regular line up of alumni guest speakers, inspiration was abundant. "I always thought I was going to work as a physio in a hospital, but I ended up working in private practice instead. AUT taught me that you don't have to stick to a particular lane – you can create something that speaks to you and you can forge your own path."
It was a natural progression for Lex to combine her professional skills with her boxing prowess, bagging it up into something immensely valuable, through Rebuild with Lex.
"The skillset that has come from being a physio has made me a better mental skills coach. Physios are a bit like hairdressers – people tell you everything – so I'd already done my fair share of counselling. I'd also discovered that when I really worked on the mental skill side of my boxing, my performance changed. I saw how valuable it was."
These mental skills aren't the kind you learn via osmosis, or in school. And as Lex is quick to point out, if your parents don't have the skills to teach you, how are you ever going to learn?
She can help with that.
"When we can get our mind on our side, our potential is limitless. Everyone can learn to be so much more than they thought. You learn the skills, you practice the skills, and they change your life."