Custodian of the deep
Ticiana Fettermann is a self-confessed ocean junkie.
An avid free diver, kite surfer and boatie, she is also a niche scientist, marine biologist and fervent environmentalist. In fact, the passionate 38 year old has dedicated her entire life to the deep blue sea.
"I need to be in the ocean every day. My life is in the ocean and trying to protect it," says Ticiana, who originally hails from Porto Alegre in Brazil. Her single-minded pursuit to preserve marine species in their natural environments has taken Ticiana all over the planet – from the spectacular beaches of Brazil to the colourful reefs of the Pacific Islands, the craggy cliffs and coastlines of Western Australia, and the Pohutukawa-fringed shores of Aotearoa New Zealand.
Currently based in Exmouth, Ticiana has devoted the past year to working in the Ningaloo Reef, a UNESCO World Heritage Area in the north west coastal region of Western Australia. "It's my job to educate, inspire, empower and encourage people to conserve marine life and their habitats."
Working as a marine biologist guide, naturalist and deck hand on ecotourism tours, Ticiana steers snorkellers carefully through the delicate reef, and delivers daily ecology talks about whales and other local marine life.
What sets her apart from other marine biologists is her very specific area of interest – using science and technology, specifically drones, to collect data and help protect the planet for the next generation.
"It's my job to educate, inspire, empower and encourage people to conserve marine life and their habitats."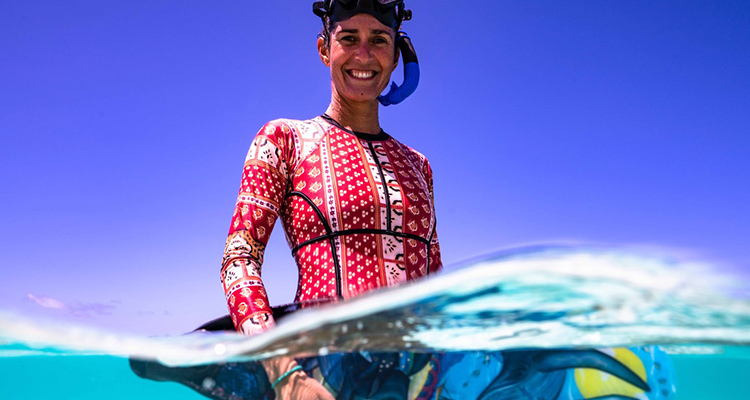 "My area of interest was so specific that at first I couldn't find anyone involved in this field, but when I came across the work of AUT's Barbara Bollard (Associate Professor in the School of Applied Sciences), I was instantly inspired. Barbara was involved in conservation, geographic information systems and had worked with dolphins. She had started a lab with drones and I thought this was the perfect tool to use for marine conservation research."
Ticiana immediately enrolled in a Master of Science at AUT, focusing her research on using unmanned aerial vehicles (UAVs) to study the behaviour of endangered bottlenose dolphins. Her work has made an invaluable contribution to other cetacean researchers and regulatory bodies, helping to shape guidelines and create safe protocols for marine species.
"This was the most exciting project I could ever have imagined. Drones are such great technology as they offer you a different perspective on the marine world and don't interrupt the normal behaviour of marine life."
After graduating from AUT in 2018, Ticiana applied her learnings in the Cook Islands as a research assistant at a whale research centre, studying the South Pacific humpback whale population and using drones to monitor their movements and behaviour. There, she introduced other scientists to the benefits of UAVs in conservation research. "The Cook Islands is an amazing place to live and work. While I was there, I also worked as a marine biologist, guiding reef snorkels and sea turtle interactions, and giving tourists and locals an insight into the basic ecology of the reef, marine flora and fauna."
Ticiana uses her spare time to teach graduate students or other researchers from Brazil how drones can be used to study marine life and help conservation efforts. "I love putting the skills from my master's degree into practice and applying them to my research. I've always been close to the ocean and I thrive when I'm sharing everything I've learned with others."
And in a world that's 71 percent ocean, it's safe to say that Ticiana will never be short of work. "My ultimate goal is to inspire further research that can help marine conservation efforts around the world. Afterall, that is my true passion."