Innovating research through drone technology
Researchers at AUT are being recognised for their creative use of drones to evaluate vulnerable ecosystems and gain insights into inaccessible environments.
AUT researcher, Dr Barbara Bollard-Breen and Professor Steven Pointing from the Institute for Applied Ecology, are developing novel "zero-harm" remote survey tools for conservation solutions.
Using drones, the team is able to map habitats and landscapes, monitor wildlife behaviour and examine human impact on the environment - without leaving a trace of their own.
Earlier this year Dr Bollard-Breen, Professor Pointing and Professor Mark Orams from the NZ Tourism Research Institute took a 'swarm' of unmanned aerial vehicles - or UAVs - to Antarctica to aerially scan the McMurdo Dry Valleys, Botany Bay and the area surrounding Captain Robert Scott's former hut.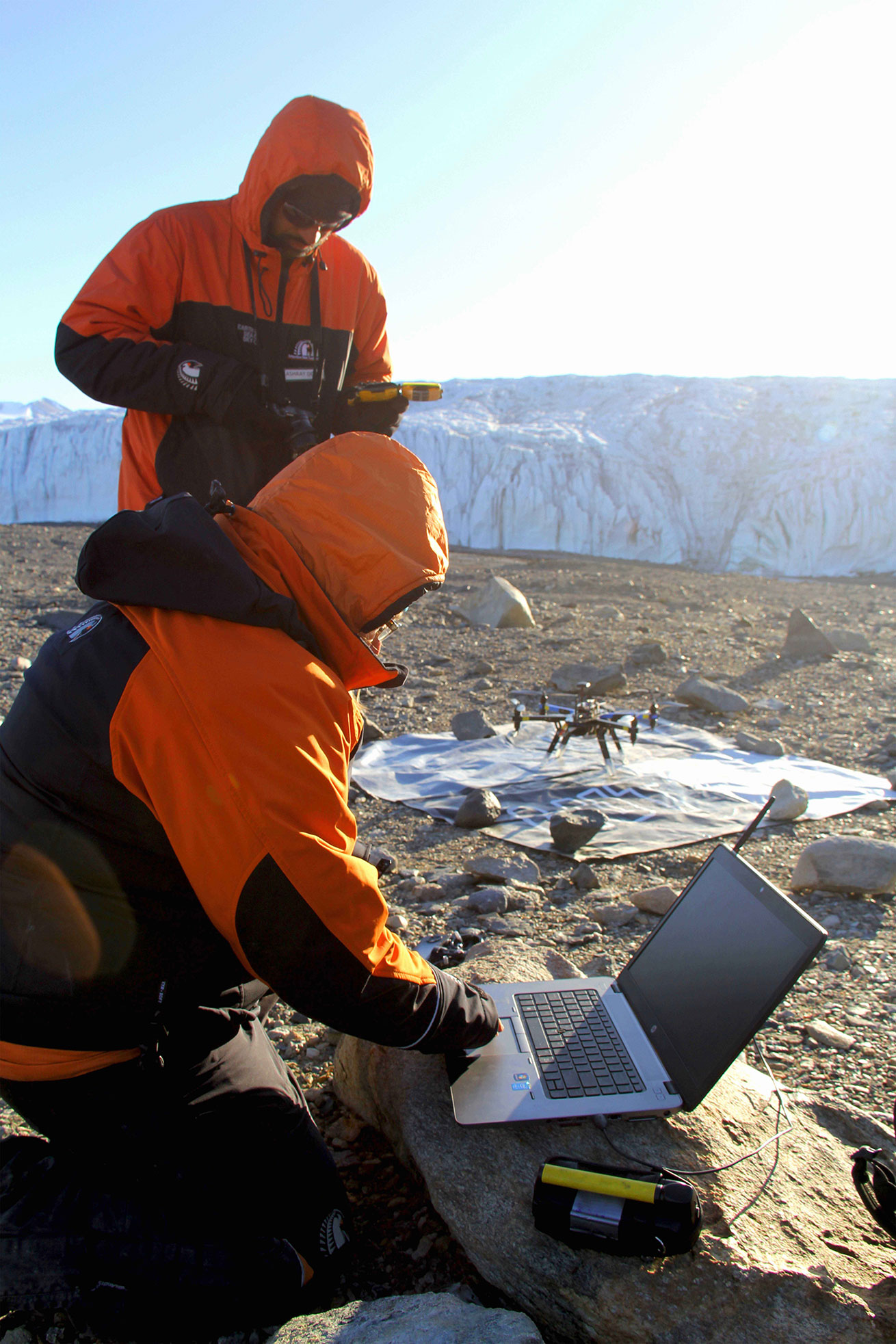 All three sites are designated special protected areas but the impact that humans have so far had on them has remained largely unknown.
The study, funded by the New Zealand Antarctic Research Institute, is delivering a world-first, high-quality data set, some of which would be added to Auckland University of Technology's spectral library of ecological records.
"We can't go back in time and eliminate what's already happened there - so we are just wanting to quantify that so we can monitor changes going forward," says Dr Bollard-Breen.
Dr Bollard-Breen, who leads AUT's Unmanned Aerial Vehicle (UAV) team, has previously used satellite imagery in her research but factors like cloud - a regular occurrence in New Zealand - interfered with the results and meant corrections needed to be made.
"The use of drones in conservation and ecological research is a game changer."
Improvements in the quality of data isn't the only advantage - drones are also more efficient.
In just a day the UAV team can map 100 hectares, collecting thousands of images that are then collated to create high-resolution maps. On foot that same area could take a month to survey.
Growing interest in their research work with drones has seen Dr Bollard-Breen, a lecturer in geospatial science, asked to speak at this year's TEDxAuckland event where she shared insights into how her team have used drones to map threatened ecosystems in Africa, Australia and Antarctica.
This year two of Dr Bollard-Breen's postgraduate students, Ticiana Fetterman and Lorenzo Fiori, also captured unique footage of a Bryde's Whale in the Hauraki Gulf with a UAV.
The footage made headlines around the world including in the Telegraph and BBC and now has close to 500,000 views on YouTube.
"The use of drones in conservation and ecological research is a game changer."
Dr Bollard-Breen says using the UAV - which flew at a distance of at least 40 metres from the whales - allowed her students to film without disturbing the surrounding wildlife, revealing footage of the whales feeding that wouldn't have been possible from a boat-based survey.
"Bryde's Whales are critically threatened in New Zealand, so it's thrilling to see them in the wild and to be able to record them feeding from above is very special."